Building Aesthetics & Privacy
Many Solar Gard® films can provide solar protection while still preserving a home's precious view through the windows. The attractive hues of Solar Gard® films lend the perfect aesthetic complement to any home, regardless of size or architectural design.
Solar Gard also features reflective versions that provide an added degree of privacy by preventing outsiders from peering in. No matter which film is installed, Solar Gard is perfect for giving older constructions a fresh, contemporary look and a new construction an eye-catching finish. With a wide variety of colors to choose from, Solar Gard can give your windows a uniform appearance.
Preserving the View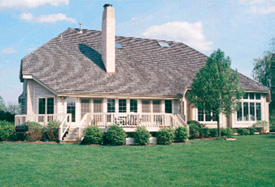 This award winning Illinois home has the advantage of a handsome lakeside location, providing picturesque views of the water from nearly every room. Of course, while the broad windows provide a warm, open atmosphere, they also let in glaring sunlight, damaging ultraviolet light and sometimes caused uncomfortable changes in climate. The homeowners wanted to eliminate these problems, but were worried about impairing the view and altering the feel of the home with dark blinds, drapes or shutters.
"The view of the lake is still great and our furnishings and carpets haven't experienced any fade damage since we had the film installed," said the homeowner.