Solar Gard® Armorcoat® Provides Safety and Security
Your home is more than just a place for possessions. Which is exactly why it's worth protecting from anything and everything that can do it harm – accidental or not. Specially designed to hold shattered glass in place, Armorcoat does more than just protect you and your family from flying shards, it also provides a deterrent barrier against burglary, storm damage and bomb blasts – giving you peace of mind that you, your loved ones and your valuables are safe and protected.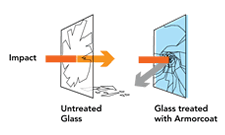 Anything from a stray golf ball to a violent storm can send dangerous shards of glass flying, subjecting people and property to serious damage, injury or worse. Armorcoat safety films keep dangerous shards together on impact, whether due to accidents, hurricanes, attempted break-ins, vandalism or bomb blasts.
Solar Gard Armorcoat safety window film provides protection from theft and intruders.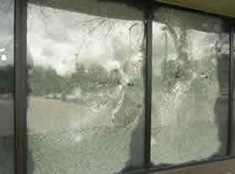 The Blane Group in Michigan had problems with intruders repeatedly breaking the tempered windows, entering the building under cover of night and stealing valuable computer equipment. After the 8 Mil film was installed, attempted thieves were unable to enter the building. The Blain Group is both impressed with the product's glass retention performance and its ability to reduce HVAC load, impacting the company's bottom line.
The FBI's Unified Crime Report states that almost 70 percent of all burglaries involve forced entry through a window or door. Bekaert's safety film helps deter break-ins, theft and even personal injury.
Regardless where you are or what you are doing, Armorcoat acts as your constant, invisible security guard, offering you complete protection around the clock.