Solar Gard® Energy Efficiency
Increase your energy efficiency, improve your environment and lower cooling costs.

More and more, business owners are interested in helping our environment and preserving precious resources. You can make a difference everyday simply by reducing your air conditioning usage. Solar Gard films help you do that by rejecting heat and keeping interior temperatures more controllable and stable. By running your air conditioning less, you consume less energy, reduce your carbon footprint and save money on utilities.
Reduce energy use and costs.
Here's how Solar Gard window film can help save energy in a Los Angeles building, built in the 1970's with 500,000 sq. ft. of office space on 20 floors, and equipped with 30,000 sq.ft. of single pane glass windows.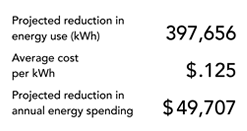 Information is based on an estimate generated by Demand Analyzer, which utilizes the U.S. Department of Energy's DOE-2 energy analysis software. Calculations shown are for illustration purposes only. Projected results vary depending on climate, geography, home construction, thermostat settings, and type of window film installed.